Learn more about Massimo through the following quick questions:
Good
morning

 Massimo. What do you do at GenomSys, and what are you currently working on?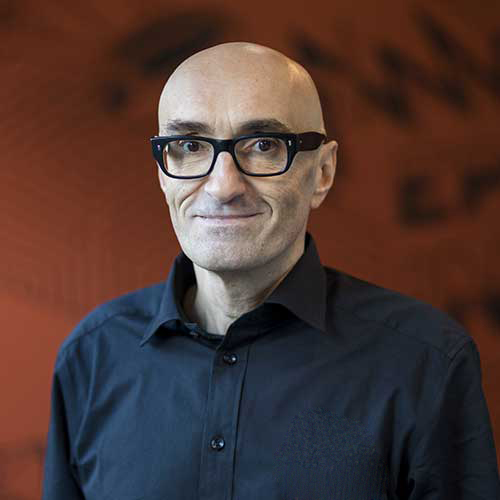 Good morning. I am responsible for the development of GenomSys Cloud Workspace and the backend service supporting all GenomSys applications like the GenomSys Variant Analyzer or the GenomYou app.
What is the most significant benefit of GenomSys' ISO-certified standard for genomic data (MPEG-G), in your opinion?
Data and data exchange are at the heart of almost everything we do, and in the case of genomics, we are typically talking about enormous amounts of data. Managing data leveraging an international standard is fundamental to guarantee interoperability, data lifetime continuity, and open accessibility.
Genomic data and data privacy challenges. What is, in your opinion, a way to solve this issue?
Genomic data carry very personal and sensitive information. On the one hand, we need to protect these data, and on the other hand, we need to share selected parts of these data for the very purpose of genomic analyses as well as for medical progress. We need a standardized solution to protect data while still enabling 3rd parties, for example genomic research centers, access to selected portions of the same protected data: this is another crucial feature of the MPEG-G standard. Our solutions reflect the high level of privacy and the empowerment of each individual to safely protect their data and allow them to share these data for medical progress purposes upon their own consent.
What is your take on personalized medicine and what role does GenomSys play in that?
There are still some steps to go on this path for personalized medicine, but it is a very promising way with a whole lot of opportunities to improve everybody's health. GenomSys is really at the forefront of this revolution, aiming to bring genomics to the masses through its applications.
When did you join GenomSys and what was one of the most memorable moment you experienced during GenomSys' journey so far?
I joined GenomSys in October 2017. I was really thrilled when GenomSys Variant Analyzer went online for the first time in May 2020, with GenomSys Cloud Workspace silently but dependably serving it behind the scenes.
Why did you join GenomSys then and what is, in your opinion, the most important thing that GenomSys offers today?
At the time, I was looking for new opportunities in new fields. When Marco and Claudio (both founders of GenomSys) told me about GenomSys and its work on genomics, I almost immediately fell for it. GenomSys is paving the way to bring personalized medicine to everybody, focusing both on the professional user's and end user's perspectives. For me, this wide spectrum approach can ultimately enable us all to leverage the information stored in our genes for better health.
When you're not programming at GenomSys, what do you do in your free time?
I like programming even as a hobby, but I also love going hiking in the beautiful Swiss mountains, or going for a swim, or riding my motorbike, or, why not, having a beer with friends.
Do you listen to podcasts or do you prefer reading books? What are you currently reading?
I prefer reading books but only in paper format – I need the physical contact with what I read or listen to. I've just recently finished reading Killing commendatore by Haruki Murakami.
If you have any further questions for Massimo or about GenomSys, please feel free to contact us.