GenomSys Variant Analyzer
GenomSys Variant Analyzer is a CE-marked and intuitive-to-use platform enabling geneticists to speed up their analysis and genuinely supporting them in their daily clinical genomic analysis. Covering the alignment, variant calling (SNVs, InDels, CNVs), and variant annotation, fully automated for CES and WES analysis and natively running on the more efficient ISO standard MPEG-G. Delivering reliable results upon which geneticists can build their interpretation.
The software can run both in cloud or server environments and enables geneticists to leverage the benefits of MPEG-G: faster data upload, smaller genomic files, more immediate data access and selective access to target regions, native encryption, and a high level of interoperability.
Request a Trial
Highlights of
GenomSys Variant Analyzer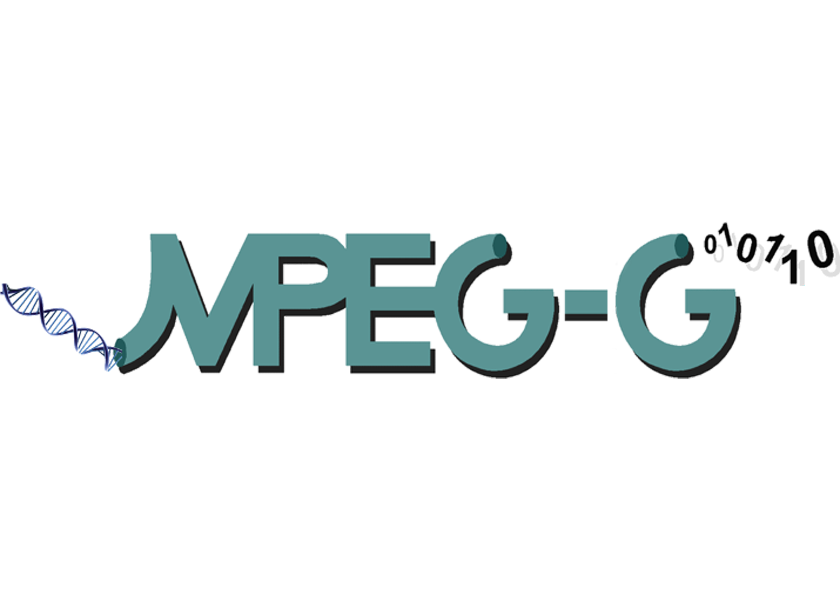 Efficiency in Data Handling
GenomSys Variant Analyzer provides you with the

worldwide

unique possibility to leverage the advantages of the MPEG-G genomic data standard. Smaller files, faster processing, and a high level of interoperability and security of your data in the usual ISO way without changing the way you work.
Automated and Reliable Workflow
Our genomic analysis software includes a fully integrated secondary and tertiary DNA analysis with an automated workflow  – customizable to your needs – for delivering reliable results in the new and more efficient MPEG-G standard.
State-of-the-Art Bioinformatics
Carefully harmonized state-of-the-art bioinformatic software relying on the most updated genomic annotation provided by Varsome and nifty tools for variants filtering.

Swiss Quality and Precision
The GenomSys Variant Analyzer is CE marked as an in-Vitro Diagnostic Medical Device according to 98/79/CE directive and hence approved for clinical-grade diagnostic purposes.
Cloud-based or on-premise? We can provide both.
It is designed to work in a cloud-based environment as an easy-to-use tool for geneticists running the analysis or can be installed on-premise using an AWS solution in your country – tailored to your individual need.
Intuitive Design and User-Friendly Interface
Its intuitive interface provides professionals with a large set of easy-to-use yet powerful features, including dynamic filtering options and Varsome's human genetic variants database.
Interested?
Request a trial and find out first-hand about GenomSys Variant Analyzer.
Request a Trial

GenomSys MPEG-G Toolkit
GenomSys MPEG-G Toolkit is a collection of software tools to process genomic data compliant with ISO/IEC-23092 genomic data standard (MPEG-G). It is CE marked as an in-Vitro Diagnostic Medical Device according to 98/79/CE directive and hence approved for clinical-grade diagnostic purposes.
The tools enable organizations to implement the standard and provide multiple benefits to multiple stakeholders:
Less waiting time for the geneticist due to faster upload and processing.
Increased IT economics due to the need for lower bandwidth for the upload and lower storage costs.
Schedule a Call
Highlights of
GenomSys MPEG-G Toolkit

Significant size benefits
Higher Compression rate up to 77% more than in legacy formats. Using an example, this means a Whole-Exome Sequencing (WES) file compressed in MPEG-G results in 2.74GB instead of 11.48GB in the FASTQ gzipped format, with benefits growing with the size of the sequencing files.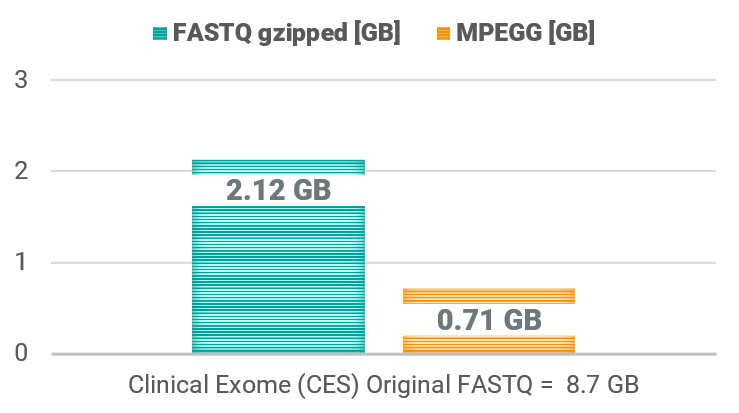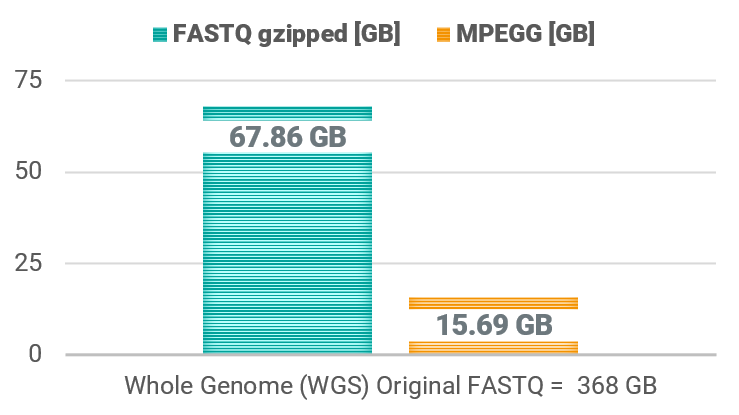 Dramatically faster data access time
In MPEG-G, the preprocessing time of a genomic file is cut to zero. That saves at least 89% of accessing time for the desired region in the file. For example, the processing time for a WES file to access selected intervals takes only 2 seconds with MPEG-G vs. 450 seconds with legacy formats.*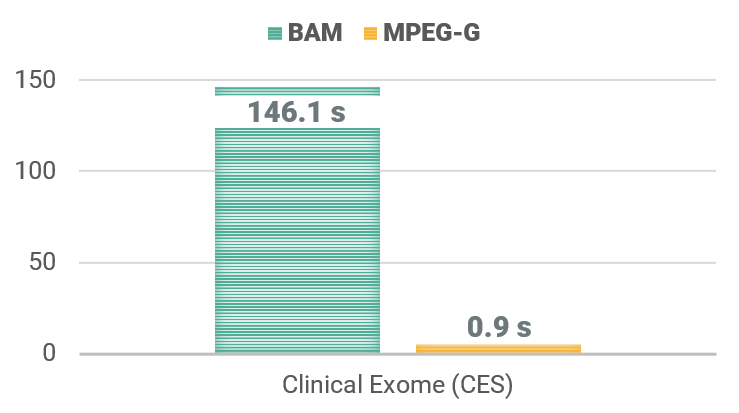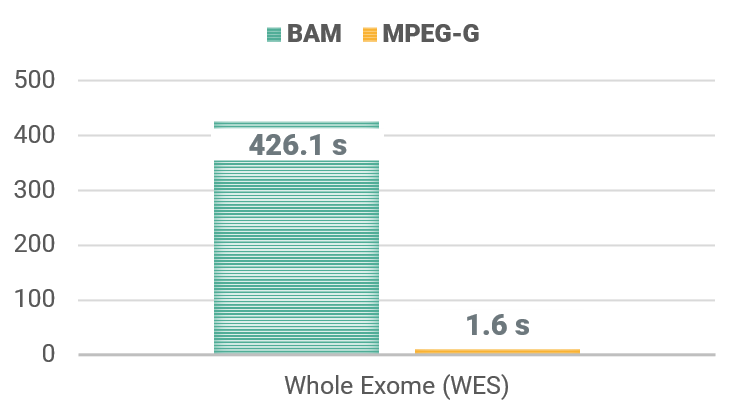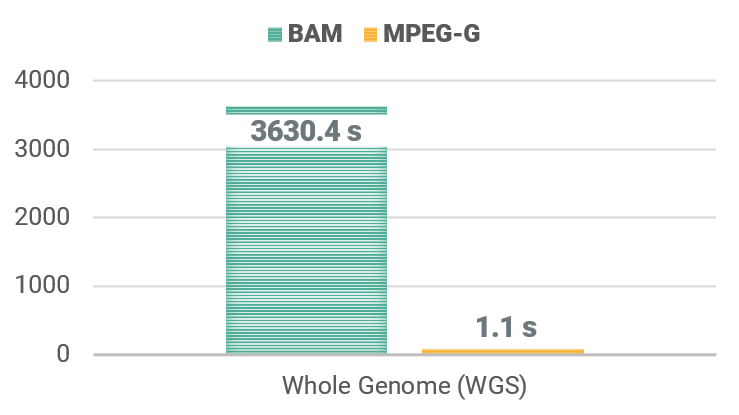 * The BAM file processed with samtools 1.11 using the commands 'samtools sort -@ 4 -o , 'samtools index -@ 4 , 'samtools view -@ 4 -L -M -o output.sam' for 27 regions of the CFTR gene. Sorting time for MPEG-G included in access time, as sorting is performed concurrently with data access (even though not strictly required by MPEG-G to index and perform random access). Selective access time including sorting and indexing time.

Built-in Data Protection
The new genomic standard addresses the need for a high level of data privacy, protecting patients' utmost sensitive information. Built-in data protection includes consistent traceability and precise access control as well as role segregation.
Interoperability
Using the MPEG-G standard is no lock-in with yet another format. The lossless transcoding into/from MPEG-G ensures that previous investments are not obsolete and a sign of true interoperability. Furthermore, the reduced size, precise access control, selective access and its single unified format make sharing even vast amounts of data easier.
Managed Pipelines
We can port your pipeline to our enterprise-grade cloud so that you only need to focus on providing your customers with the best possible analysis tools. At the same time, we take care of IT and infrastructure in a future-proof environment.
GenomSys is certified according to the ISO 13458 Quality Management System so that you can be sure (and tell your customers) that the highest quality standards are followed when deploying your tools.
Feedback from one of our customers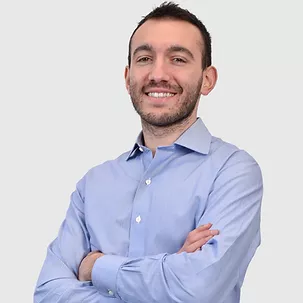 "GenomSys helped us in scaling up our RNA-seq pipeline for drug discovery. They made available our pipeline as a user-friendly web application running on their cloud infrastructure.
In this way we can focus on improving our products without worrying about managing software and data storage," says CEO of Alithea Genomics, Riccardo Dainese.
Alithea Genomics is a Swiss company that develops solutions to run a large number of RNA sequencing experiments in an affordable and rapid manner. Their customers are pharmaceutical companies that leverage RNA sequencing in their drug discovery process.
Certified Quality
that matters.
GenomSys is an ISO-13485 certified manufacturer of software for medical devices.
All our products take full advantage of ISO/IEC 23092 MPEG-G genomic standard.
Our professional products are developed with Swiss precision and CE-marked as in-Vitro Diagnostic Medical Devices according to 98/79/CE directive and hence approved for clinical-grade diagnostic purposes.