For individuals
GenomYou app
by GenomSys
User-friendly and free, the genome app is the revolutionary GenomSys' mobile app enabling end-users to save their genomic data and any genomic-related reporting they might have requested on their own device. The app guarantees the highest level of privacy and security, as GenomSys care for users' privacy and not for sharing their data.
Through the app, end-users will also be able to order the DNA sequencing, should they not have it already, or specific genomic analyses. All of this is possible at the touch of a button on your smartphone, secure and private, thanks to GenomSys MPEG-G data format and advanced genomic analysis. A unique offer by GenomSys.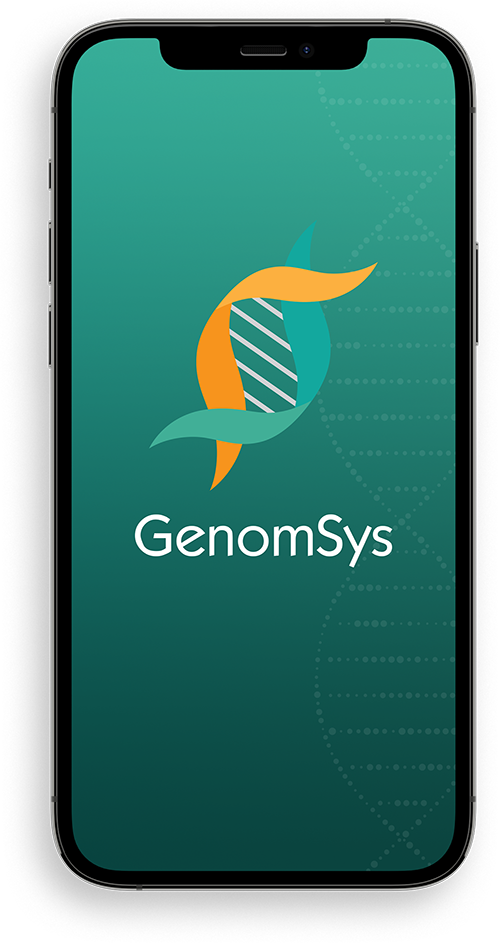 Personalized Medicine
Check in the genome app and instantly discover how ibuprofen or any other medicine works exactly for you, even in front of the pharmacists or your doctor.
Lifestyle Checks
Ask genome app how your body is processing alcohol or whether you produce enough vitamin D or selenium to protect you.
Clinical Genomics
Ask for the analyses recommended by your doctor, such as the presence of genetic mutations harmless to you, but potentially impacting your child, and get the report directly in your hands.
For our business partners
GenomSys MPEG-G Codec Suite
GenomSys MPEG-G Codec Suite is a collection of software tools to process genomic data compliant with ISO/IEC-23092 genomic data standard (MPEG-G). It is CE marked as an in-Vitro Diagnostic Medical Device according to 98/79/CE directive and hence approved for clinical-grade diagnostic purposes.
The tools enable organizations to implement the standard and leverage its benefits by encoding and decoding genomic data;  providing source code examples, a comprehensive user manual, and additional software to transcode from/to legacy formats (to preserve past investments) and to integrate functionalities into existing applications and pipelines.
The key benefits of the unique MPEG-G standard are a single unified format, non-proprietary ISO-defined international standard, built-in security elements, significant size benefits, and dramatically faster data access time.
Fact Sheet MPEG-G
Schedule a demo
GenomSys Variant Analyzer
GenomSys Variant Analyzer is a platform natively operating on MPEG-G genomic data format that enables accurate variants identification, annotation, and interpretation (SNVs, indels, CNVs).
Based on state-of-the-art pipelines and leveraging MPEG-G-specific features, GenomSys Variant Analyzer supports professionals in the diagnostic process and selecting treatment options.
Our Variant Analyzer has been developed to address the customer's requirements regarding accuracy, privacy, and usability and can run both in cloud or server environments. The selective access enables to focus on required genetic targets without the need to access and analyzing the whole patient's genomic data. The enhanced compression rate and native encryption provide an advantage for sequencing and genomic research centers.
Schedule a demo
GenomSys Cloud Workspace
GenomSys Cloud Workspace is a modular web service platform to enable API-based access and control to GenomSys Cloud Workspace technology features – like for example the transcoding to/from MPEG-G of sequenced and aligned genomic data – genomic data and metadata storage, retrieval of genomic data from external sources, purchase/subscription to third-party genomic services such as ordering a sequencing, user management, access control, comprehensive logging and auditing.
The platform targets both cloud-based and on-premise deployments. It comprises a S3- compliant user-friendly web-based control panel for end-users and administrators, while the API access enables the integration with other front-ends (e.g. GenomSys own mobile app) or third-party applications. GenomSys Cloud Workspace offers business customers access to APIs and services for efficient and secure genomic data compression, storage, transcoding, transport, access and sharing.
Schedule a demo