Keep your genomic data
safe and run analyses
whenever you like
What was once matter of billions of dollars is now within everyone's reach.
Discover how GenomSys is democratizing genomic analysis.
Your privacy is our commitment
DNA is truly unique. We empower you to fully control your genomic data instead of having it stored in someone else's server somewhere. If you lose your credit card or your home keys, they can be replaced. Your DNA cannot be changed or replaced, you are bond to it for life.
Analysis at a touch of button
Thanks to our solutions based on a revolutionary ISO MPEG-G open standard and our native analysis tools, you can order and review results of genomic analyses on your smartphone, at any time. Need to check how a medicine truly works with you? Need to know if you carry any mutations potentially impacting your (future) children? Just ask in our app.
Direct line with doctors and labs
If you don't have it already, you can order your DNA to be sequenced directly from the genome app selecting where the analysis should be run (and you'll shortly get a kit at home to provide your sample) or you can securely share analysis reports with your caring physician directly from our app.
For Individuals
GenomYou app
KNOW YOURSELF WITH JUST ONE CLICK
Your DNA is your past, your present… your future.
Make the best use of it!
Our one-of-its-kind mobile app stores your DNA and analyses reports on your own personal device (nowhere else), enables you to check effectiveness of medicines and command specific genomic-based analyses directly in the app.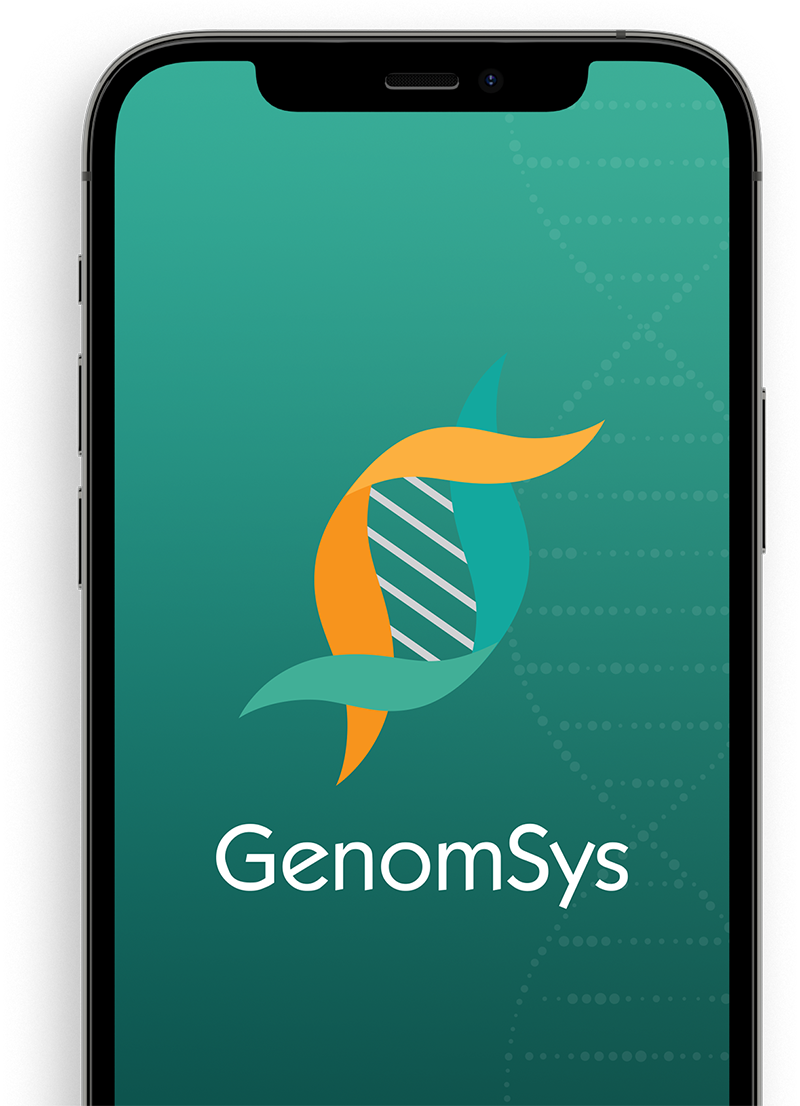 For our business partners
Gen coder Eu project
Efficient Genomic Tools
MPEG-G powered analysis
MegaPipeline
Gen coder Eu project
The GenCoder project aims at implementing the first prototype of MPEG-G compliant encoder and decoder for efficient compression, storage, transport and analysis of genome sequencing data
Efficient Genomic Tools
GenomSys is collaborating with VItal-IT, the High Performance Computing center of the Swiss Institute of Bioinformatics, and the EPFL on a project that plans the development of the technology for a new generation of tools and devices providing efficient compression, storage, transport and manipulation of genomic data. The new technology will be the backbone of a class of products conceived to implement genomic applications with new features for data access and handling as well as with a dramatic reduction of storage costs supporting transfer from sequencing facilities to storage and/or analysis sites.
MPEG-G powered analysis
In collaboration with the Carl R. Woese Institute for Genomic Biology at the University of Illinois Urbana Champaign, GenomSys is developing the first version of the popular toolkit developed by the Broad Institute which is able to process compressed MPEG-G bitstreams.
Go to website
MegaPipeline
MEGAPIPELINE is developing a tool suite of ISO/IEC 23092 (MPEG-G) compliant software applications providing compression, storage, transport and manipulation of genomic data. The developed software components are integrated in genome analysis pipelines to enable new processing features, a reduction of storage costs and data streaming capabilities to connect sequencing facilities to storage or analysis sites.
Go to website