Learn more about Giuseppe's recap of 2021 at GenomSys and his outlook for 2022 for himself and the company through the following quick questions:
Hi Giuseppe and happy New Year to you

. What was your most outstanding achievement at GenomSys in 2021?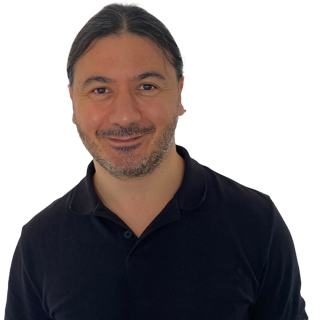 As a team newly formed, the biggest challenge was to learn how to communicate and work together. It wasn't easy initially, but this evolved nicely over the months.
As a personal achievement, for each of our projects, I found myself at least once in a rush context, raising quickly out of "no requirements yet" to "we have a goal, a very urgent goal". I was able to win the challenges: the first release of the backend for GenomSys Variant Analyzer, our GenomYou App, and new upcoming ideas. It was not only the "doing things" part, but also the "select the suitable technology"-, "learn new things"- and then "make it work"-part within the requested schedule!
What was the most important thing you learned in 2021?
Planning and coordination are essential. Every time there is even only the idea of a plan, and the organization follows it, everything works smoothly, no matter how many changes arise. Moving tasks as small Lego bricks within a framework is much easier, whether priorities change or new bricks come into play. Ultimately following a plan allows you to get the satisfaction of seeing something building. And the coordination part must put the bricks precisely in the place they belong. On the opposite side: no plan, no coordination, may bring massive monster results. It may not work in everyday life, but if you have a project, never trust people that say: "it's impossible to make plans": plans are just the steps to reach a goal, and we have goals!
What are your expectations for you and/or GenomSys for 2022?
I joined GenomSys because I believe we can make a difference through our products and technologies in genomics and healthcare. Now is the time to see if the market adapts our approach and experiences the potential massive benefits from the ISO standard for genomic data representation MPEG-G. I foresee a more concrete interest in GenomSys: customers that start using our products in their everyday work, feedbacks, new requests and our products growing together with the challenges we will be facing too!
On a personal side for 2022, I expect the usual:
New challenges for myself from which I can grow,
learning new things in the process of solving these challenges,
while creating new things and
seeing them become valuable to us and, hopefully, to the people.
If you have any further questions for Giuseppe or about GenomSys, please feel free to contact us.
Picture: chrisreadingfoto / pixabay